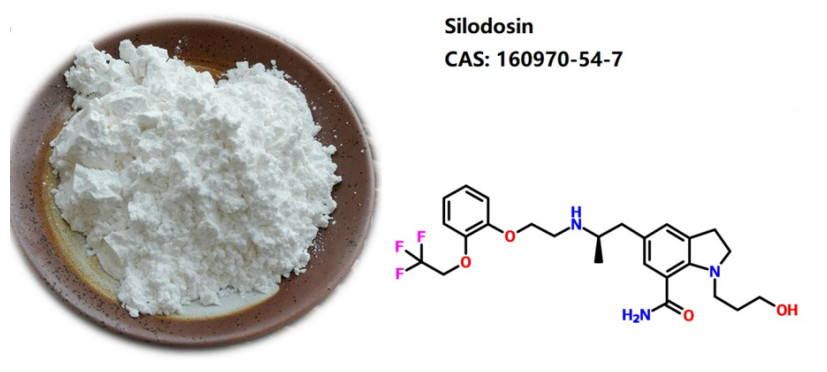 Other Names:Urief; KMD-3213; UNII-CUZ39LUY82
MF:C25H32F3N3O4
Place of Origin: China (Mainland)
Type:Pharmaceutical intermediates
Grade Standard:Medicine Grade
Purity:99%min
Name:Supply Silodosin/Urief CAS 160970-54-7
Appearance:White Crystalline Powder
Molecular Formula:C25H32F3N3O4
Molecular Weight:459.63
Density:1.249 g/cm3
Boiling Point:601.4 °C at 760 mmHg
Flash Point:317.5 °C
Enthalpy of Vaporization:94.11 kJ/mol
Vapour Pressure:2.58E-15 mmHg at 25 °C
Shelf life:2 Years
Supply Ability
10 Kilogram/Kilograms per Month more
Packaging & Delivery
Packaging Details
Silodosin:Vacuum sealed foil packaging(1kg/bag),Export grade fiber drum (25kg/drum).
Port : any port of China
Lead Time : within 10days after payment
1)Product Name:Supply Silodosin/Urief CAS 160970-54-7
2)Purity:99%
3)Testing Method:HPLC
4)Molecular Formula:C25H32F3N3O4
5)Introduction:
Silodosin is a new generation of alpha 1 adrenoceptor antagonist, on alpha 1A subtype adrenergic receptors with outstanding selectivity, can selectively urethral relaxation of smooth muscle, for the other two subtypes of alpha 1 receptor affinity is much weaker to other drugs, thus reducing the incidence of hypotension and other adverse reactions.
Silodosin (trade names Rapaflo (USA), Silodyx (Europe and South Africa), Rapilif (India), Silodal (India), Urief (Japan), Urorec (Russia)) is a medication for the symptomatic treatment of benign prostatic hyperplasia. It acts as an α1-adrenoceptor antagonist with high uroselectivity (selectivity for the prostate).