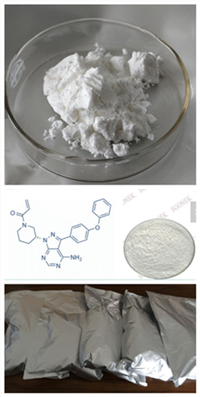 Introduction
Ibrutinib
CAS 936563-96-1
CAS 936563-96-1 MF C25H24N6O2 MSDS: AviableMW 440.5 Quality standard :99% min purity , enterprise standardFunctions
Ibrutinib is a cancer drug that targets B-cell malignancies
such as certain leukemias and lymphomas.
Application
Ibrutinib is a highly selective Bruton's tyrosine kinase (Btk) irreversible inhibitor.PCI-32765 (Ibrutinib) is a selective and irreversible pyrrolopyrimidine-based inhibitor of BTK with IC50 of 0.5 nM. [1] PCI-32765 binds irreversibly to Cys-481 in BTK and thus is only active with other kinases with such a modifiable cysteine residue. In DOHH2 cells, in which the BCR pathway can be activated by anti-IgG, PCI-32765 inhibits autophosphorylation of BTK (IC50, 11 nM), BTK's physiological substrate, PLCg (IC50, 29 nm), and downstream ERK (IC50, 13 nm).
PCI-32765 (Ibrutinib) is a high potent irreversible BTK inhibitor with an IC50 of 0.46 nM for the purified Btk.PCI-32765 (Ibrutinib) is highly active and well tolerated in CLL/SLL pts irrespective of high risk genomic abnormalities. Although follow-up is short, the high response rate and very low progression rate suggests that PCI-32765 (Ibrutinib) may be an important new targeted treatment approach for CLL pts. In ex vivo assays with whole bold, PCI-32765 (Ibrutinib) prevents the activation of human BCR with an IC50 of about 0.2 μM, while not influencing the activation of T cell. Treatment of CD40 or BCR activated CLL cells with PCI-32765 (Ibrutinib) results in inhibition of BTK tyrosine phosphorylation and also effectively abrogates downstream survival pathways activated by this kinase including ERK1/2, PI3K, and NF-κB. In addition, PCI-32765 (Ibrutinib) prevents activation-induced proliferation of CLL cells in vitro, and effectively inhibits survival signals provided externally to CLL cells from the microenvironment including soluble factors (CD40L, BAFF, IL-6, IL-4, and TNF-α), fibronectin engagement, and stromal cell contact. PCI-32765 is originally developed by Pharmacyclics. And participants is been invited for the phase I clinical trials.
Specification
Items

Specifications

Results

Appearance

White to whitish crystal powder

Conforms

Loss on drying

NMT 0.5%

0.33%

Residue on ignition

NMT 0.1%

Conforms

Heavy metal

NMT 20ppm

Conforms

Assay (HPLC)

NLT 99.5%

99.77%

Related substances

NMT 0.5%

0.23%

Single impurity

NMT 0.1%

0.07%

Conclusion: Complies to the Enterprise standard
SupplyAbility
1000 Kilogram/Kilograms per Month
Packaging & Delivery
Packaging Details: 25kgs packaging Fiber drum outside and plastic bag inside 1-25kgs packaging aluminium bag outside and double plastic bag inside
Delivery Detail: Shipped in 3 days after payment.
Port: Any port in China
Lead Time : Within 3 days