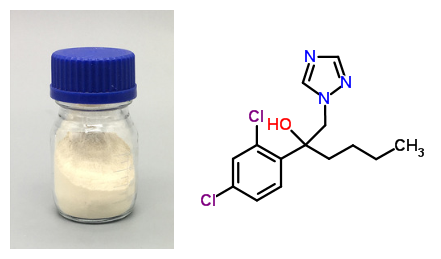 Classification:Fungicide
CAS No.:79983-71-4
Other Names:Hexaconazole 95%tc
MF:C14H17Cl2N3O
EINECS No.:413-050-7
Place of Origin: China (Mainland)
State:Powder
Purity:98%
Application:Agriculture
content:≥95.0%
Appearance:White Powder
Certification:CE ISO 9001 COA MSDS
Water:0.5% Max.
Sulfated ash:0.1% Max.
Heavy metal:10ppm Max
Test standard:GB 2015
Test Methold:HPLC-ESI-MS
Packing:25kgs/Drum
Supply Ability
100 Ton/Tons per Year
Packaging & Delivery
Packaging Details
25kgs/Drum; 5kgs/Tin&10kgs/Carton
Port :Any port in China
Lead Time : with 10 days after the payment
Specifications
Fungicide Hexaconazole
Selling in more than 15 countries
High quality on competitive price
Bulk and retail packing
Fungicide 95%TC, 5%EC Hexaconazole
-Stem and leaf spray
-Great effect on powdery mildew,apple scad, coffee rust.
Common name: Hexaconazole
Chemical name: (RS)-2-(2,4-dichlorophenyl)-1-(1H-1,2,4-triazol-1-yl)hexan-2-ol
CAS NO.:79983-71-4
Molecular Formula:C14H17Cl2N3O
Molecular Weight: 314.2
Properties:White crystalline solid,melting point:111℃,density:1.29g/cm3,Vapor pressure:0.11mPa(20℃),solubility(20℃):0.018g/L in water,246g/L in methanol,59g/L in toluene,Stable in acid,alkali and light.Stable under roon temperature for 90 days,stable in water for 30 days under PH5.7-9.0 and 10 days under ultraviolet rays.
Toxicity:Hexaconazole is a low toxic pesticide.The acute oral LD50 for male/female rat in 2189/6071mg/kg,male/female is 612/918mg/kg,the acute dermal LD50 for rat>2010mg/kg,the LC50(96h) for rainbow trout is 76.6mg/L,carp is 5.94mg/L.
(+/-)-alpha-Butyl-alpha-(2,4-dichlorophenyl)-1,2,4-Triazole-1-ethanol; (RS)-2-(2,4-Dichlorophenyl)-1-(4H-1,2,4-triazole-4-yl)hexan-2-ol; Anvil; PP 523; R154523; Anril Planete Asten; Hexaconazole suspension; (RS)-2-(2,4-dichlorophenyl)-1-(1H-1,2,4-triazole-1-yl)hexan-2-ol; 2-(2,4-dichlorophenyl)-1-(1H-1,2,4-triazol-1-yl)hexan-2-ol
Common name hexaconazole (BSI, ANSI, draft E-ISO, (m) draft F-ISO)
IUPAC name (RS)-2-(2,4-dichlorophenyl)-1-(1H-1,2,4-triazol-1-yl)hexan-2-ol
Chemical Abstracts name (?-a-butyl-a-(2,4-dichlorophenyl)-1H-1,2,4-triazole-1-ethanol
CAS RN [79983-71-4]
APPLICATIONS
Mode of action Systemic fungicide with protective and curative action.
Uses Control of many fungi, particularly Ascomycetes and Basidiomycetes, e.g. Podosphaera leucotricha and Venturia inaequalison apples, Guignardia bidwellii and Uncinula necator on vines, Hemileia vastatrix on coffee, and Cercospora spp. on peanuts, at 15-250 g/ha. Also used on bananas, cucurbits, peppers and other crops.
Formulation types
Hexaconazole 95%TC
Hexaconazole 10%SC
Hexaconazole 5%SC
Hexaconazole 10%EC
Packing details
10ML ~200L for liquid formulations, 1G~25KG for solid formulations.