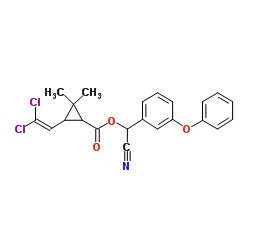 CAS No.:52315-07-8
Other Names:Cypermethrin
MF:C22H19Cl2NO3
Place of Origin: China (Mainland)
Type:Auxiliaries and Other Medicinal Chemicals, Vitamins, Amino Acids and Coenzymes
Grade Standard:Cosmetic Grade, Medicine Grade
Purity:99%min
storage temp.:-20°C
MW::416.3
Boiling point:170-195°C
Melting point:60-80°C
Merck:14,7970
form:yellowish to brown solid
Water Solubility:insoluble
Supply Ability
1000 Kilogram/Kilograms per Month
Packaging & Delivery
Packaging Details
according to customers' requirements
Port:All ports in China
Lead Time :
within 3-5 working days upon the receipt of the payment
insecticidal drugs Cypermethrin with CAS:52315-07-8
Introduction:
Cypermethrin is a synthetic pyrethroid derivative of natural pyrethrins with a good insecticidal action. In vertebrates and invertebrates, cypermethrin acts mainly on the nervous system. It is both a stomach poison and a contact insecticide. Cypermethrin is used as an insecticide in large-scale commercial agricultural applications as well as in consumer products for domestic purposes. Cypermethrin is used to control pests in soybean, leeks, onions, carrots, turnips, swedes, parsnips, viola spp., spinach, black currant, gooseberries, sunflowers, linseeds, groundnuts, barley, and mushrooms.
Application:
Control of a wide range of insects, especially Lepidoptera, but also Coleoptera, Diptera, Hemiptera, and other classes, in fruit (including citrus), vines, vegetables, potatoes, cucurbits, lettuce, capsicums, tomatoes, cereals, maize, soya beans, cotton, coffee, cocoa, rice, pecans, oilseed rape, beet, ornamentals, forestry, etc. Applied at 10–100 g/ha in field crops; 10–50 g/ha in fruit. Control of flies and other insects in animal houses; and mosquitoes, cockroaches, houseflies and other insect pests in public health. Also used as an animal ectoparasiticide.
Storage:Stable under normal storage condition in original container.