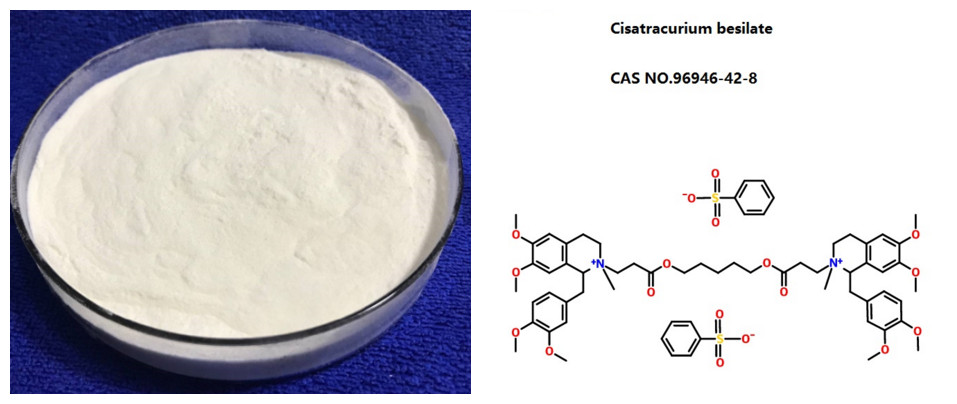 Other Names:Cisatracurium besylate
MF:C53H72N2O12.2C6H5O3S
Place of Origin: China (Mainland)
Type:
Antibiotic and Antimicrobial Agents, Vitamins, Amino Acids and Coenzymes
Grade Standard:Cosmetic Grade, Medicine Grade
Purity:99%min
MW:1243.49
Melting point:90-93°C
storage temp.:Amber Vial, -20°C Freezer, Under Inert Atmosphere
solubility:H2O: soluble1mg/mL color white
color:white
Supply Ability
1000 Kilogram/Kilograms per Month
Packaging & Delivery
Packaging Details
according to customers' requirements
Port :All ports in China
Lead Time :within 3-5 working days upon the receipt of the payment
Interoduction:
Product name : Cisatracurium besylate
CAS no. : 96946-42-8
Molecular formula: C53H72N2O12.2C6H5O3S
Molecular weight: 1243.49
Melting point : 90-93 ° C
Cisatracurium besylate is the benzene sulfonate salt form of atracurium. It is a kind of artificially synthetic non-depolarizing muscle relaxants with its role similar as tubocurarine. It has an onset time of 1 minute and duration time of 15 minutes. The treatment dose does not affect the heart, liver and kidney function. It also has no accumulation property. It also can induce the release of histamine when used at large doses. For muscle relaxation or breathing control required in surgery, compared with current clinical major muscle-relaxing anesthetic drugs, cisatracurium besylate is not metabolized through liver or kidney, and has cardiovascular stability; its effect of muscle relaxation is 3 times as strong as atracurium without any cardiovascular side effects. Cisatracurium besylate is mainly applied to general anesthesia, and can be widely used in intubation, treating liver and kidney dysfunction, used in cardiovascular surgery and elderly and pediatric patients.
Function:
Cisatracurium besilate is the latest generation muscle relaxants, cis-benzene sulfonamide atracurium mai-nly used in general anesthesia, and can be widely used in endotracheal intubation, liver and kidney dysfun-ction, cardiovascular surgery and elderly and pediatric patients.
Application:
1.Medical Purpose.
2. Food Additives.
3.cosmetic grade.
Specification: