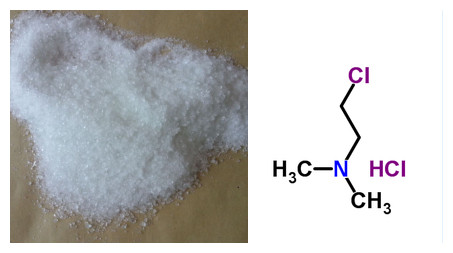 Other Names:Dimethylcyclosiloxane;Dimethyl cyclosiloxane
MF:C4H11Cl2N
Place of Origin: China (Mainland)
Type:
Pharmaceutical Intermediates, Syntheses Material Intermediates
Purity:99.0%min
Model Number:99% DMC Dimethylcyclosiloxane
Application:Pharm Intermediates
Appearance:Crystalline Powder or Crystals
Melting point:201-204 °C(lit.)
storage temp.:Store below +30°C.
solubility:2000g/l
color:White to brown-yellow
Water Solubility:2000 g/L (20 °C)
Sensitive:Hygroscopic
WGK Germany:3
HazardClass:6.1
PackingGroup:III
HS Code:29211980
Supply Ability
Supply Ability:
600 Metric Ton/Metric Tons per Month
Packaging & Delivery
Packaging Details
25kg/180kg iron drums
Port : any port in China
Lead Time :Shipped in 10 days after payment

2-Chloro-N,N-dimethylethylamine hydrochloride (DMC) is used as intermediate for the synthesis of pharmaceuticals (e.g. bephenium hydroxnaphthoate, diltiazem, mepyramine and phenyltoloxamine)
2-Chloro-N,N-dimethylethylamine is a widely used as a intermediate and starting reagent for organic synthesis.
English name: 2-Dimethylaminoethyl chloride hydrochloride
CAS Number: 4584-46-7
Molecular Formula: C4H11Cl2N
Molecular Weight: 144.04
EINECS number: 224-970-1
Related Categories: Halogen compounds; For Chlorpheniramine's Production; Organic Building Blocks; Standards; General Reagents; Pharmaceutical Intermediates; Intermediates; Pharmaceutical Raw Materials; Amine Salts;
Specifications for 2-Dimethylaminoethyl chloride hydrochloride

Product

2-Dimethylaminoethyl chloride hydrochloride

Appearance

White crystal

Purity (min)

99%min

Molecular weight

144.04

Boiling Point

57.8 °C at 760 mmHg

Melting Point

201-204 °C(lit.)

Flash point

21.6 °C